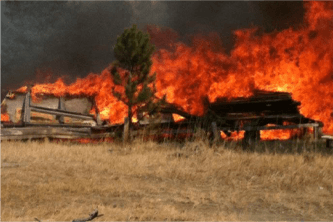 Barker Law Firm, LLC has handled wildland fire cases since 1985.
Our experience includes origin and cause investigations — the gathering of forensic evidence, and scientific data to hold the responsible parties accountable. Our cases include multiparty cases for groups of neighbors who claimed fire losses against utility companies, railroads and trucking companies. Our cases include many of the largest wildland fires in western South Dakota and eastern Wyoming.
There Is No Substitute For Thorough Preparation
We leave no stone unturned in our search for the truth. We work with world-class wildfire experts on the many technical aspects of wildland fire investigation, from origin and cause, to fire behavior, weather forensics, engineering, ecology, re-forestation, cleanup, real estate valuation and agricultural losses. Through these experts, we apply state-of-the-art technology and methods, to arrive at a well-prepared case.
A Recognized Wildland Fire Litigator
Partner Ken Barker has been invited to lecture at National Conferences on the topic of wildland fire litigation. In 2011, he spoke at the Powerline Wildland Fire Conference on "Issues & Lessons from Grizzly Gulch Power Line Fire Litigation," and again, in 2017 he was invited back to the Conference and spoke on the topic of "Oil Creek Fire: A Slippery Slope." This Conference is the largest National Wildland Fire Conference in the country. Its participants include nationally and internationally known wildland fire investigators, forensic experts, firefighting and prevention personnel, wildland fire litigators, public utility personnel, and government forestry officials.
Contact Us For The Help You Need
If you have suffered losses as a result of a wildland fire, we will meet with you and answer your questions about the process that may be undertaken to help you recover from your loss.
Contact us to speak to our lawyer by calling 605-723-8000 to reach our Belle Fourche, South Dakota office.