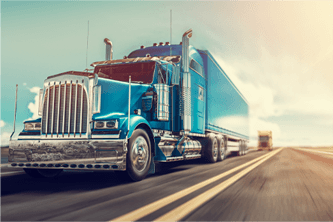 South Dakota Lawyer Taking On Trucking Companies
Big rig and semi collisions on roads like I-90 have led to catastrophic injury and death. Trucking companies are often to blame. Trucking companies may hire unqualified or unfit drivers or force drivers to work long shifts resulting in fatigue. Deadlines set by trucking companies may force truck drivers to speed to reach their destination on time. Poor maintenance of trucks may also lead to highway collisions. Sometimes, the truck drivers simply violate the rules of the road, often with disastrous results.
Our attorney at Barker Law Firm has decades of experience investigating trucking collisions and successfully suing trucking companies in state and federal courts. When you contact us, we won't hesitate to team up with engineering experts to investigate physical evidence at the scene and recreate and reconstruct precisely how your collision occurred. The trucking companies usually learn about the collision before we do, and we've learned there is no time to waste in the initial investigation in these important cases.
The FMCSA Regulations Protect You
The Federal Motor Carrier Safety Administration (FMCSA) was established to protect the public and prevent commercial motor vehicle-related fatalities and injuries. While a crash involving a car often results in damage to a fender, a crash with an 80,000 pound semitractor and trailer can involve multiple vehicles and cause devastating injuries and death. The FMCSA regulations are designed to protect the public from injury and death caused by large trucks and other commercial vehicles. Our lawyer has been dealing with those regulations and applying them to truck collision cases since the time the FMCSA was created.
Putting The Trucking Company On Trial
In every trucking case we handle, we analyze the records trucking companies are required to maintain and critically examine the driver qualification file and the company's policies and practices in training, supervision, collision avoidance, drug and alcohol testing, and hours of service. We often learn that a trucking collision could have been avoided if the Federal Motor Carrier Safety Administration regulations had been followed. This is powerful evidence in a trucking case.
Contact Our Firm
Contact us by calling us at 605-723-8000 to reach our Belle Fourche, South Dakota, offices. We offer a free initial consultation in trucking collision cases. We use written contingency fee agreements in all trucking collision cases that we accept.