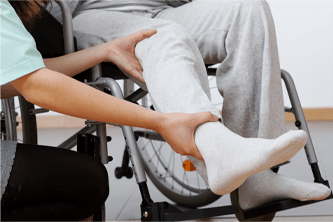 Barker Law Firm, LLC has a reputation in South Dakota and Wyoming for quality representation in handling complex personal injury cases. Our lawyer has decades of experience representing people who have suffered life-shattering injuries, including:
Skull and brain injuries
Spinal cord injury
Quadriplegia and paraplegia
Amputation and crush injury
Second-degree and third-degree burns
Complex regional pain syndrome
Disfigurement
Collisions leading to fatalities
We work closely with vocational, economic and medical experts to measure the full extent of our clients' financial losses. These financial losses include lost earnings and medical and caretaking expenses.
But the most important and satisfying part of our work is spending time with our clients and their families. This time is essential so we can fully understand our clients' human losses. This time is essential so we can tell our clients' true stories. This time is essential for a successful outcome for their cases.
Catastrophic Motor Vehicle Collisions
We are very selective about the personal injury cases we take. We only take catastrophic motor vehicle collision cases that have resulted in serious bodily injury or death. This allows us to give every case we take the close personal attention it deserves.
Industrial Collisions
We are licensed to practice law in Wyoming and South Dakota, and have represented several clients who were severely injured in railroad collisions, mining collisions, oil and gas field collisions, and other industrial and workplace tragedies.
Defective Products
Product liability claims can involve lawsuits against corporations. The law firm you hire in a product liability case must be willing and able to invest substantial sums of money to prove in court, usually with sophisticated scientific evidence, that a product is defective and unreasonably dangerous. Without that evidence, these companies seldom accept responsibility.
Premises Liability
A slip-and-fall on someone's property can cause severe head, neck and back injuries. However, recovery for such injuries can be legally and factually complicated. We have successfully handled numerous slip-and-fall premises liability cases over the years. Our experienced premises liability attorney know how to construct and present the case against the property owner and persuade the insurance company to accept responsibility for your injuries.
Call Our Personal Injury Attorney Today
Contact our Belle Fourche office by calling 605-723-8000. We offer a free initial consultation in personal injury cases. We use written contingency fee agreements in all personal injury cases we accept.